How to bypass Windows 10 password and automatically login in two cases
Case 1: When you still can login system
Case 2: When forgot password unable to login
Case 1: How to bypass Windows 10 password to automatically login when you can login system
Generally, you just need not to set any password or open the Control Panel to remove the password you've set, if you want to bypass Windows 10 login screen and automatically login without typing password. But it would be too old school and may be not the way you really want. Following it's a new way to bypass Windows 10 password within system.
Step 1: Simultaneously press Win + R keys to bring out Run dialog box. Then type netplwiz and press Enter key.
Alternatively, you can press Win key on your keyboard or click on the Windows icon in the lower left corner on Windows 10 desktop to bring out Windows 10 Start menu. Type netplwiz in the search box and then click the netplwiz in the search result.
Step 2: User Accounts dialog opens. Select the user (local user or Microsoft account) whose password you want to bypass on your Windows 10 login screen from the users list. Then uncheck the box next to Users must enter a user name and password to use this computer, and click the Apply button.
Step 3: In the Automatically sin in dialog, type the user name and the right password, and then click OK.
After that, each time you start or restart computer you can bypass the login screen and automatically login Windows 10 with the user. This can save a little time for you to quickly boot into Windows 10.
Notably, if you simultaneously press Ctrl + Alt + Delete keys to sign out the user, you will still need to type the password when you re-login. It means the user is actually still password protected, you can bypass its password only when you start or restart Windows 10. This way, it can help lock your Windows 10 when you need to get away from your computer for a while but don't want to shut down the computer.
Case 2: How to bypass Windows 10 password when forgot password unable to login
To reset Windows 10 password, you will need:
1) A USB drive or black DVD or CD.
2) An accessible Windows computer or borrow from friend's.
3) iSeePassword Windows Password Recovery program, you can directly download it below.

1. 

Download and Install Windows Password Recovery on a Normal Computer

The first and the foremost step are to download and install the Windows recovery tool on a accessible computer. You can see the main windows below. What is required now is a USB flash drive or DVD so that can create a bootable reset disk. This tutorial takes USB drive as an example.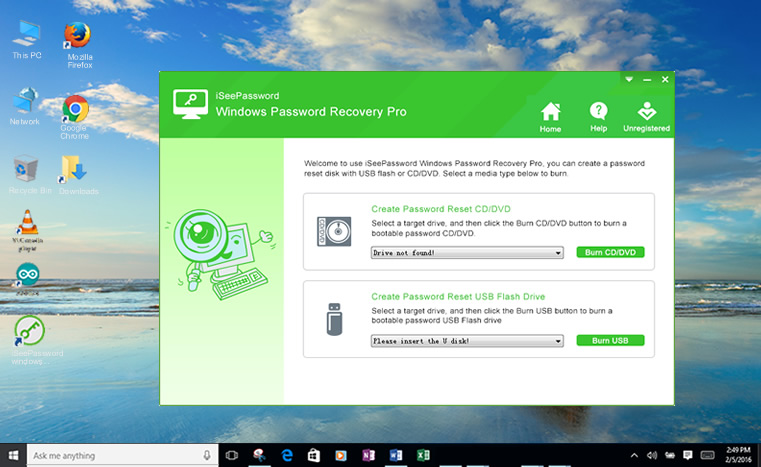 2.

Insert the USB drive to Accessible Computer, then Create a Bootable Password Reset Disk

Run the program and then make sure to select on the USB option device. After the selection, click on the 'Burn USB' option and then begin the burning process. When finish the process, just eject the USB drive.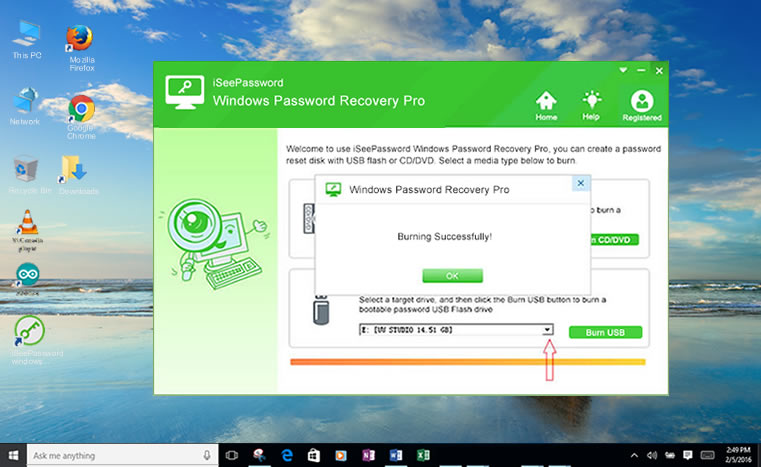 3. 

Insert the USB to the Password-locked Computer and Boot Computer from USB Drive

This step you need to insert your USB drive to your locked Windows 10 computer and go to the reboot option. Reboot your computer and type F12, F2 or other certain keyboard to enter into BIOS settings. Different brands have different methods to enter the BIOS settings. Then choose the booting option from USB or CD/DVD.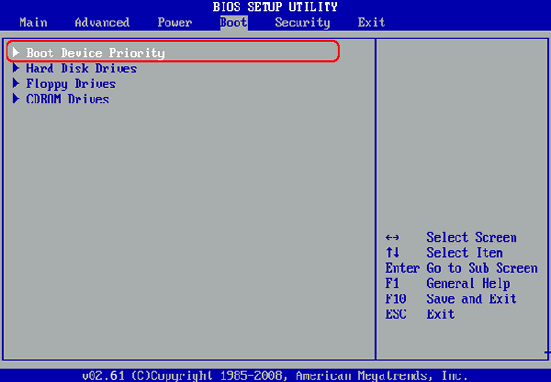 4. 

Start to Reset Your Windows 10 Password.

You need to changed the boot order to USB drive then restart your computer, this time, the iSeePassword Windows Password recovery program will be opened during the booting. In this step, the program will detect all the account you set in the computer, here it can reset admin, users, local, Guest and homeGoup users password. You just select the target users that you want to reset, then click the "Reset Password" to begin. You can also click "Add User" button to create a new account for your computer.

After resetting the password, the password of target user will be blank, then you need to click on the "Reboot" option and then restart the computer . Now, the computer will be started without prompting password.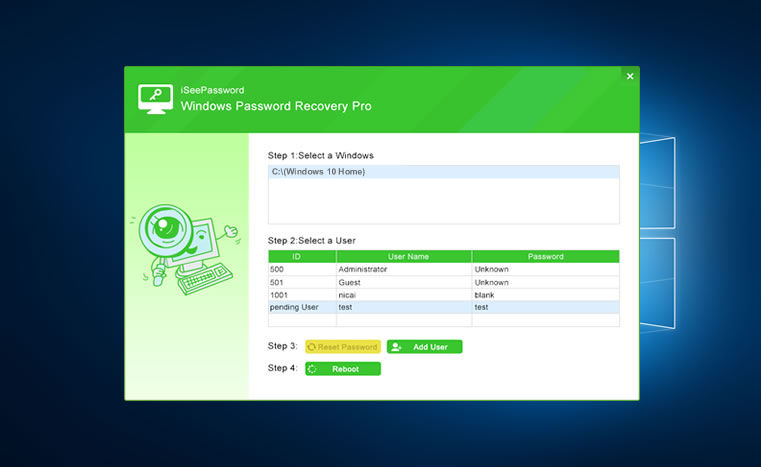 Done! As you can see, the process of recovering your Windows 10 password is much the same as it has been in Windows 7 and above. Thus with the help of program you can reset lost password without having to use a disk. But the most important thing is that you actually follow the instructions properly so that each of the steps and the guidelines are correctly pointed up.
The current version of iSeePassword is compatible with all Windows system including Windows XP, Vista, Windows 7, 8, 8.1and Windows 10, both 32-bit and 64-bit systems. Our team tested iSeePassword Professional Edition on our Windows 10 machine with a local account and we can confirm that it works fine as advertised, it's that simple and safe!
iSeePassword Windows Password Recovery Pro v2.6.2.2 incl Keymaker Download Links !
Download link===> iSeePassword Windows Password Recovery Pro v2.6.2.2 65 MB